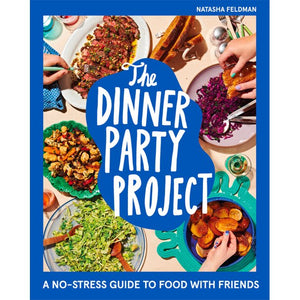 The Dinner Party Project by Natasha Feldman
Regular price $40.00 Sale
Hardcover
A cooking show host and private chef shares the secrets to throwing fun, no-stress gatherings through recipes for every mood and cooking comfort level, menu suggestions, and tips and tricks for taking the pressure off of hosting.
The dinner party is back! Chef and cooking show host Natasha Feldman shares the secrets to throwing fun and delicious no-stress gatherings. This modern manual offers 80+ recipes as well as menu ideas, sketches (like a flow chart for what to cook when you're lazy), and practical tips to ensure that everyone enjoys the party--especially the host!
Making and eating dinner with your friends should be a blast--nothing tops getting people together, sharing good food, and laughing until you cry. The Dinner Party Project is here to revive and democratize the dinner party, to make it a fun, communal practice rather than a stressful solo performance by the host.
Forget fussy recipes with ingredients lists that run a mile long. With sections on appetizers, main dishes, drinks, sides, and desserts, Feldman provides recipes for every mood and cooking comfort level (including pizza parties, taco nights, and permission to order takeout). Whimsical illustrations help demystify the cheese plate, offer store-bought dessert options, and guide you to your ideal dinner menu; tips within each recipe ensure great results and help you plan ahead and avoid last-minute scrambling.
Recipes include:
Crunchy Radishes Dipped in Honey Fennel ButterPeel 'n' Eat Shrimp with Basil Dipping MagicPerfect Seared Ribeye with Pistachio Date Salsa VerdeParty PestoVery Adult Salad: Bitter Greens with Roasted Grapes and PecorinoVeggie Pot Pie with Black Pepper and Parm PhylloThin Mint Pudding Pie
So go ahead: pick a date, plan a menu, and invite some friends over--after all, nothing brings people together like a good meal.