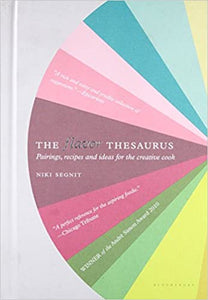 The Flavor Thesaurus Pairings, Recipes and Ideas for the Creative Cook Newer Edition by Niki Segnit
Regular price $32.00 Sale
Hardcover
"A perfect reference for the aspiring foodie." –Chicago Tribune

Winner of the André Simon Award * Observer Best Books of the Year * Guild of Food Writers Best First Book Award

A complete guide to the 99 most essential ingredients and their numerous flavor combinations, offering inspiration for the cook who has everything.

Whether a flavor is defined by a "grassy" ingredient like dill, cucumber, or peas, or a "floral fruity" food like figs, roses, or blueberries, flavors can be combined in wildly imaginative ways. In this lively and original book, Niki Segnit identifies the 99 fundamental ingredients of food and examines what goes with what―revealing for the first time just how infinite are the possibilities in an everyday kitchen. 

Segnit has scoured thousands of recipes in countless recipe books, talked to dozens of food technologists and chefs, and visited hundreds of restaurants―all in her quest to uncover the planet's essential pairings. Moving from Meaty to Cheesy, Earthy to Mustardy, and more, Segnit celebrates traditional pairings such as pork and apple and cucumber and dill; points us toward contemporary favorites like goat cheese and beet; and introduces us to unlikely but delicious matchings such as blueberry and mushroom. With nearly a thousand entries and 200 recipes, The Flavor Thesaurus is not only a highly useful and covetable reference book, but the sort of book that will keep you reading, laughing, and cooking for years to come.