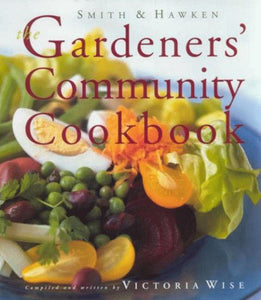 The Gardeners' Community Cookbook by Victoria Wise
Regular price $12.00 Sale
Paperback 
A big, ripe cornucopia of a book by gardeners who cook and cooks who garden, Smith & Hawken
The Gardeners' Community Cookbook

 
celebrates both the Smith & Hawken gardening community and Second Harvest, the largest charitable hunger relief organization in the United States. Over 300 contributors from all 50 states share the fruit and vegetables of their labors--the secrets of their tomatoes and their tomato sauce. There are herb growers. Patio gardeners. Farmers. And famous chef/gardeners and writers, such as Deborah Madison, Alice Waters, Barbara Kafka, Ken Hom, Paula Wolfert, Thomas Keller, and Barbara Damrosch, who forces Belgian endive in buckets under the kitchen sink during bitter Maine winters.

And what they offer are over 400 recipes that give a cross section of creative American garden cooking. Here are garden-to-table dishes: Spinach and Strawberry Salad; Mexican Bruschetta. Seasonal inspirations: Curried Zucchini Soup; Tortellini with Pumpkin Alfredo; Asparagus Mushroom Flan. Prime pickings: Chicken and Chives; New Mexico Chard Enchiladas. And harvest put-ups: Green Tomato Chutney; Sweet Red Bell Pepper Pickle.

Compiled and written by Victoria Wise, this is the cookbook to meet like-minded neighbors and friends you never knew you had, exchanging ideas and recipes just for the pleasure of it.