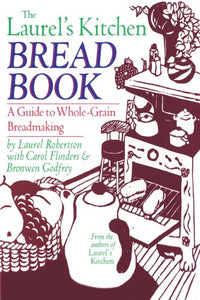 The Laurel's Kitchen Bread Book: A Guide to Whole-Grain Breadmaking by Laurel Robertson
Regular price $16.00 Sale
Hardcover
The Laurel's Kitchen Bread Book
is the classic bestselling cookbook devoted to baking light, healthful, delicious bread entirely from whole grains. This specially updated edition includes an entirely new chapter on making excellent whole-grain loaves in a bread machine. Now even the busiest among us can bake the delectable loaves for which Laurel's Kitchen is famous.


New research proves what we've known all along: Eating whole grains really is better for your health! Here, the switch from "white" is made fun and easy.

Like a good friend, the "Loaf for Learning" tutorial guides you step-by-step through the baking process. You'll make perfect loaves every time, right from the start.

Here you'll find recipes for everything—from chewy Flemish Desem Bread and mouthwatering Hot Cross Buns to tender Buttermilk Rolls, foolproof Pita Pockets, tangy Cheese Muffins, and luscious Banana Bread—all with clear explanations and helpful woodcut illustrations.

The brand-new chapter on bread machines teaches you to make light "electric" loaves from whole-grain flour. No matter what your schedule, you can come home to the wonderful smell of baking bread, fresh, hot, and ready to enjoy.