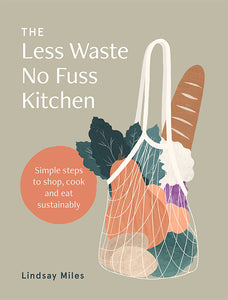 The Less Waste, No Fuss Kitchen: Simple steps to shop, cook and eat sustainably by Lindsay Miles
Regular price $19.99 Sale
Softcover
Our kitchens are ground zero when it comes to food waste, excess packaging and confusing ethical choices. What you buy, cook and eat has a much bigger impact than the bag you carry it in. Inspiring, practical and above all simple, The Less Waste No Fuss Kitchen is designed for busy people who want to make simple changes without rethinking their whole lives.

Lindsay Miles, of Treading My Own Path and Less Stuff, will help you to:
• Switch up your daily staples to reduce your carbon footprint
• Avoid single-use packaging, even at the supermarket
• Make the most of your pantry, fridge and freezer to avoid food waste
• Confidently adapt recipes to use what you have

There really might be such thing as a (waste) free lunch.