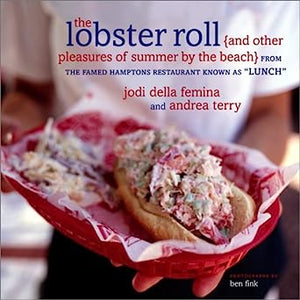 The Lobster Roll by Jodi Della Femina and Andrea Terry
Hardcover
The lobster roll and other pleasures of summer by the beach from the famed Hamptons restaurant Lunch. 
Just east of the village of Amagansett, toward Montauk, the towns fall away, the trees disappear, the sky opens up, and the lush farmland gives way to sand and reeds and scrub in an area called Napeague. On the ocean side of this lonely stretch of Route 27, nestled in front of dunes, a sign announces "Lunch" at a shingle-style diner. As New York magazine explained, "Anyone who's ever been to a Hampton has seen the Lobster Roll, better known as Lunch—a weather-beaten roadside clam bar, no-frills seafood restaurant, and geographic point of reference that's as much a part of the South Fork as the Montauk lighthouse."

The Lobster Roll is indeed an institution, evocative of carefree, casual summer eating—exactly the type of food in this book:

• Soups and appetizers such as New England Clam Chowder, Lobster Bisque, and Steamers and Broth
• Rolls and sandwiches that include Lobster Rolls and the Perfect Hamburger
• Perfect summer entrées like Lavender-and-Buttermilk Fried Chicken, Barbecued Ribs, and Grilled Leg of Lamb with Garlic and Rosemary
• Refreshing sides such as Creamy Coleslaw, Pickled Squash and Mint Salad, and simple recipes for summertime treasures like corn, tomatoes, and new potatoes
• Desserts like Strawberry-Rhubarb Pie and Raspberry-Peach Cobbler as well as drinks such as Homemade Berry-Citrus Iced Tea and Fresh Strawberry-Mint Lemonade

The Lobster Roll has been dishing up this food for three decades to locals, tourists, and summer residents alike. This book is a celebration of that cuisine, with the restaurant's preparations adapted for home cooks, plus non-restaurant recipes for quick, simple dishes that take advantage of summer's fresh bounty. And the beautiful color photographs perfectly capture both the food and the region—this book is what summer looks like, and this food is what summer tastes like.