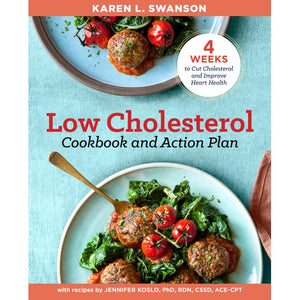 The Low Cholesterol Cookbook and Action Plan by Karen L. Swanson
Regular price $14.99 Sale
Paperback
Eat smarter and boost your heart health with this low cholesterol cookbook and action plan
Switching to a new heart-healthy diet can seem like a daunting task. That's why cardiac dietitian, Jennifer Koslo, and Go Low Cholesterol blogger, Karen Swanson, created The Low Cholesterol Cookbook and Action Plan. With an easy-to-follow 4-week program, this low cholesterol cookbook delivers comprehensive recipes and a proactive meal plan that can help you eliminate bad fats without missing out on the delectable flavors you crave.
From Slow Cooker Hawaiian Chicken to Veggie Chili, this complete low cholesterol cookbook gives you everything you need to start cooking up a storm. Get expert tips for shopping and creating food lists, plus suggestions for exercising regularly, and more.
The Low Cholesterol Cookbook and Action Plan goes beyond your basic low cholesterol cookbook with:
120 Heart-healthy recipes--Discover dozens of low cholesterol takes on your favorite foods like Banana-Oat Pancakes, Honey Mustard Chicken, and Flourless Chocolate Cookies.
A 4-week meal plan--Get on the right path to lowering cholesterol in one month with this sensible action plan.
Fast and flavorful dishes--Most meals take 30 minutes or less to prepare and use only 5 key ingredients.
Embrace a new health-conscious way of eating with The Low Cholesterol Cookbook and Action Plan.