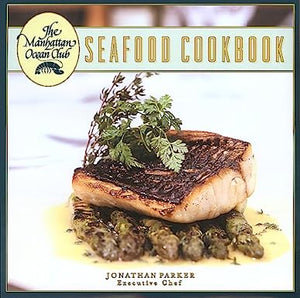 The Manhattan Ocean Club Seafood Cookbook by Jonathan Parker
Regular price $20.00 Sale
Hardcover
From one of the premier resturants in a city known for its fine dining comes The Manhattan Ocean Club Seafood Cookbook, a selection of more than 100 recipes from master chef Jonathan Parker. 
Here is a plethora of seafood delights, including appetizers and entrees, from standards like Manhattan Ocean Club's Famous Clam Chowder to creations like Whole Stuffed Onion with Basil-Scented Vegetables and Lobster, Sauteed Skate Wing with Black Butter, Capers, and Balsamic Vinegar; and Mahi Mahi with Moroccan Spices and Eggplant. Recipes range from simple to exotic, and all can be re-created in the home kitchen.
Also included are Jonathan's recipes for appetizers such as Salad of Roma Tomatoes, Vidalia Onions, and Feta Cheese; and desserts, such as Warm Chocolate Mousse Tart, to complement the bounty of the sea.
In the introductory chapter, Jonathan provides a brief, helpful course in cooking methods for different types of seafood. Each recipe features easy-to-follow instructions and carefully outlines needed equipment.