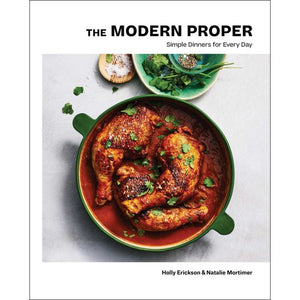 The Modern Proper by Holly Erickson & Natalie Mortimer
Regular price $32.00 Sale
Hardcover
Get the most out of your time in the kitchen with these 100 fast, instant-classic dinners that everyone will love.
For pretty much everyone, life gets busy--but you still want to cook up a good meal, ideally one that's accessible, efficient, and doesn't sacrifice any of the delicious flavors you love. The creators of the popular website The Modern Proper are all about that weeknight dinner, and now, they're showing you how to reinvent what proper means and be smarter with your time in the kitchen to create meals which will bring friends and family together at the table.
The Modern Proper will expand your "go-to" list and help you become a more intuitive, creative cook. Whether you're a novice or a pro, a busy parent or a workaholic, this book will arm you with tools, tricks, and shortcuts to get dinner on the table. Every ingredient is easy to find, plus you'll find plenty of swaps and options throughout. Each of the 100 recipes (some all-time fan favorites and many brand-new) includes prep time, cook time, and quick-reference tags.
These include:
-Stuffed Chicken Breast with Mozzarella and Creamy Kale
-Stir-Fried Pork Cutlets with Buttermilk Ranch
-Sweet Cider Scallops with Wilted Spinach
-Tofu Enchiladas with Red Sauce
-And more!
With recipes to feed a crowd, an entrée for every palate, a whole chapter of meatballs, and plenty of pantry essentials, The Modern Proper is the new essential cookbook for any and all food lovers.