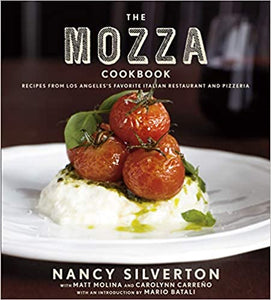 The Mozza Cookbook by Nancy Silverton
Regular price $35.00 Sale
Hardcover
Winner of the  2014 James Beard Award for Outstanding Chef: the top chef in the country

A traditional Italian meal is one of the most comforting—and delicious—things that anyone can enjoy. Award-winning chef Nancy Silverton has elevated that experience to a whole new level at her Los Angeles restaurants Osteria Mozza and Pizzeria Mozza, co-owned with restaurateurs Mario Batali and Joe Bastianich. A reservation at Mozza has been the hottest ticket in town since the restaurants opened and diners have been lining up for their wildly popular dishes. Finally, in The Mozza Cookbook, Silverton is sharing these recipes with the rest of the world.

The original idea for Mozza came to Nancy at her summer home in Panicale, Italy. And that authentic Italian feel is carried throughout the book as we explore recipes from aperitivo to dolci that she would serve at her tavola at home. But do not confuse authentic with conventional! Under Silverton's guidance, each bite is more exciting and delectable than the last, with recipes such as:
Fried Squash Blossoms with Ricotta
Buricotta with Braised Artichokes, Pine Nuts, Currants, and Mint Pesto
Mussels al Forno with Salsa Calabrese
Fennel Sausage, Panna, and Scallion Pizza
Fresh Ricotta and Egg Ravioli with Brown Butter
Grilled Quail Wrapped in Pancetta with Sage and Honey
Sautéed Cavolo Nero
Fritelle di Riso with Nocello-soaked Raisins and Banana Gelato
Olive Oil Gelato

In the book, Nancy guides you through all the varieties of cheese that she serves at the Mozzarella Bar in the Osteria. And you'll find all the tricks you need to make homemade pastas, gelato, and pizzas that taste as if they were flown in directly from Italy. Silverton's lively and encouraging voice and her comprehensive knowledge of the traditions behind this mouthwateringly decadent cuisine make her recipes—both familiar and intricate—easy to follow and hard to resist. It's no wonder it is so difficult to get a table at Mozza—when you're cooking these dishes there will be a line out your door as well.