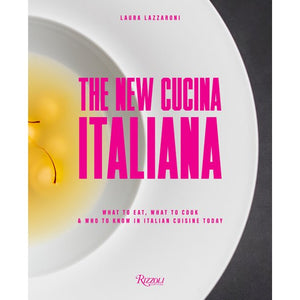 The New Cucina Italiana by Laura Lazzaroni
Regular price $40.00 Sale
Hardcover
Recipes from the kitchens and restaurants of Italy's new culinary masters, who combine an innate sixth sense for quintessentially Italian flavor with a contemporary approach, defining an exciting new gastronomy.
Everybody loves Italian food. It is among the most talked about, written about, and globally popular. But as travelers have sought out culinary experiences in off-the-beaten-path destinations elsewhere in the world, in Italy even consummate foodies eat the same postcard versions of traditional dishes, occasionally making forays into a handful of fine-dining favorites. Yet by far the country's most interesting cuisine is to be found outside of well-trodden establishments, and it's as varied and full of personality as it is delicious.
This generation of chefs have come a long way from their nonna's kitchen: they approach tradition with a respectful yet emancipated perspective; they rethink the formats of the Italian restaurant; they are rediscovering foraging and farming; they introduce serious cocktail programs. This book covers thirty-two chefs and restaurateurs who are reinterpreting the "greatest hits" of Italian dining: from trattorie to fine dining, from aperitivo to pizzerias. Lazzaroni takes her readers on a visual north to south tour of this new cucina italiana, stopping at restaurants, inns, farms, and pop-ups all across the country, showing in stories and recipes the multitude of approaches, influences, and ingredients that comprise this movement.