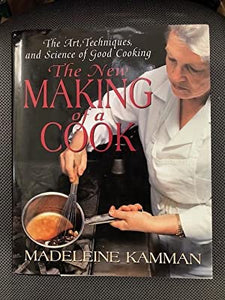 The New Making of a Cook by Madeleine Kamman
Regular price $60.00 Sale
Hardcover
The Making of a Cook became an instant classic upon its publication in 1971. Since then much has changed in the way America cooks and The New Making of a Cook meets these changes head-on. This fully revised edition teaches every technique used in today's homes and professional kitchens, from julienning vegetables to roasting meats to steaming fish to baking bread. With years of experience teaching America's top chefs how to cook, Madeleine knows what works and why.
Today's cooking is much more heart-healthy, and The New Making of a Cook is filled with low-fat cooking techniques, along with hundreds of recipes that extract maximum flavor from the least required amount of fat (though culinary indulgences still remain). In addition to techniques and recipes, The New Making of a Cook tells the important whys of cooking-why meats brown in the pan; why egg whites stiffen when they are beaten.
The New Making of a Cook is an extraordinary and indispensable reference from an extraordinary teacher. Completely rewritten for today's cook, it will become a classic all over again.