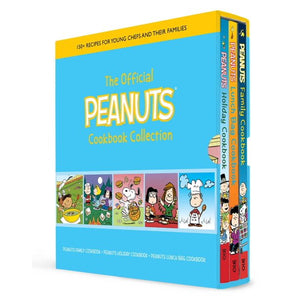 The Official Peanuts Cookbook Collection
Regular price $45.00 Sale
Boxed Set of 3 Softcover Children's Books
This colorful cookbook collection features kid-friendly recipes, classic comics, and original illustrations inspired by all your favorite characters from the Peanuts Gang.
More than 150 recipes found throughout the three books featured in this giftable box set are the perfect way for kids to get creative in the kitchen.
Dive into The Peanuts Family Cookbook and whip up French Foreign Legion Toast, Cormac and Cheese, or Camp Kamp Chili Chow. The Peanuts Holiday Cookbook provides sweet treats for favorite occasions all year round from Easter Egg Lollipops to Snoopy's Gingerbread Doghouse. Find packable snacks, sandwiches, treats, and more in Peanuts Lunch Bag Cookbook with 50 recipes perfectly portable for lunchtime on the go.
 A colorful array of classic comic strips and original illustrations offer festive embellishment on every page of each of these three unique cookbooks.
 This is the perfect way to celebrate Charles Schulz's beloved characters, including Charlie Brown, Snoopy, Lucy, Linus, Pig Pen, Schroeder, and more, during breakfast, lunch, and, of course, suppertime.