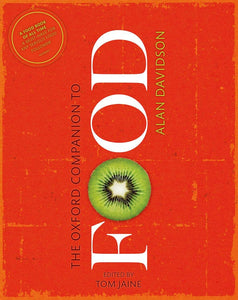 The Oxford Companion to Food (Revised) by Alan Davidson
Regular price $65.00 Sale
Hardcover
Twenty years in the making, the first edition of this bestselling reference work appeared in 1999 to worldwide acclaim. Combining serious and meticulously researched facts with entertaining and witty commentary, it has been deemed unique by chefs and reviewers around the globe. It contains both a comprehensive catalog of foodstuffs - crackers and cookies named for battles and divas; body parts from toe to cerebellum; breads from Asia to the Mediterranean - and a richly allusive account of the culture of food, whether expressed in literature and cook books, or as dishes special to a country or community.
Retaining Alan Davidson's wisdom and wit, this new edition also covers the latest developments across the whole spectrum of this subject. Tom Jaine has taken the opportunity to update the text and alert readers to new perspectives in food studies. There is new coverage on attitudes towards food consumption, production and perception, such as food and genetics, food and sociology, and obesity. New entries include terms such as convenience foods, gastronomy, fusion food, leftovers, obesity, local food, and many more. There are also new entries on important personalities who are of special significance within the world of food, among them Clarence Birdseye, Henri Nestle, and Louis Pasteur.
Now in its third edition the Companion maintains its place as the foremost food reference resource for study and home use.