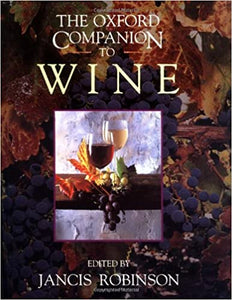 The Oxford Companion to Wine 1994 No DJ by Jancis Robinson
Regular price $25.00 Sale
Hardcover/No Dust Jacket/First Edition/Water Damage & Repaired Cover
There has never been a book like 
The Oxford Companion to Wine
. From the novice to the connoisseur, wine lovers will be enlightened, informed and enchanted by this delightful one-volume guide to the world of wine. Beautifully designed and unrivalled in its scope, it is edited under the keen supervision of Jancis Robinson, heralded by 
The Wine Advocate
 as "perhaps the most gifted of all wine writers writing today," and one of the few journalists to pass the notoriously difficult Master of Wine exams.
Going deeper than traditional buyer's guides and wine atlases, the 
Companion
 sought out contributions and advice from more than 70 authorities from around the world, including more than a dozen Masters of Wine. Its 3,000 alphabetically arranged entries range from brief entries--What is a 
blanc de noirs
? Where is Chateau Latour?--to fascinating longer essays on the intricacies of wine
scoring, wine aging, and the nuances of judging a wine's color, aroma and flavor. The sumptuous illustrations include 32 stunning full color plates and 31 maps of every major wine region.

As readable as it is comprehensive, the 
Companion
 recognizes wine in all its many roles--as a commercial commodity, as a complex and subtle work of art, and, of course, as a source of great pleasure. Ranging from Abruzzi and armagnac to Zimbabwe and Zinfandel, from Dionysian revels in ancient Greece to today's leading wine research centers, the entries explore all aspects of wine appreciation, the wine trade, and wine-making, including the very latest advances in viticulture and enology. All technical terms are fully explained, and the hundreds of useful drawings and photographs illustrate key processes.
From the Napa Valley to Burgundy to China's Shandung peninsula, here are in-depth discussions of the climates, personalities, and grape varieties that have shaped the great wine regions of the world. Other single subject entries include the great winemakers, vintner's terms, hundreds of individual grape varieties, and some of the important names in the wine world, including American wine judge Robert Parker, and Michael Broadbent, head of Christie's Wine Department.
The 
Companion's
 stellar cast of contributors and consultants include wine correspondents, judges, wine merchants, historians, practical scientists, specialists from some of the world's leading institutions for the study of wine, including Professor A. Dinsmoor Webb of the University of California at Davis, and even a barrel broker. Other contributors include American wine educator and writer Harriet Lembeck, Thomas Pinney, author of 
A History of Wine in America
, and Zelma Long, President of Simi Winery and the second woman ever to enroll in the Department of Enology at Davis.

Destined to become the ultimate reference on wine and wine-making, 
The Oxford Companion to Wine
 is the perfect volume to enhance a lifetime's enjoyment of the beverage Ernest Hemingway called "one of the most civilized things in the world."