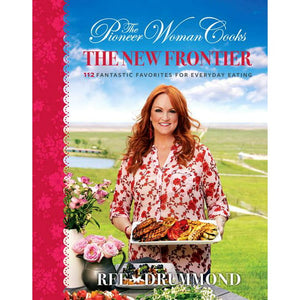 The Pioneer Woman Cooks The New Frontier by Ree Drummond
Regular price $13.00 Sale
Hardcover
The #1 New York Times bestselling author and Food Network favorite The Pioneer Woman cooks up exciting new favorites from her life on the ranch in this glorious full-color cookbook that showcases home cooking at its most delicious (and most fun!).

Welcome to Ree's new frontier! So much has happened on Drummond Ranch over the last couple of years: The kids are growing up, another left for college, Ree's schedule is crazier than ever...and through it all, her cooking has evolved. While she and her family still love all the hearty comfort foods they're accustomed to, Ree's been cooking up some incredible new dishes that reflect the flavors, colors, and texture she's craving these days.
The Pioneer Woman Cooks: The New Frontier features 112 brand new step-by-step recipes that bring fresh, exciting elements into your everyday meals. From super-scrumptious breakfasts, to satisfying soups and sandwiches, to deliciously doable suppers and sides--and, of course, a collection of irresistible sweets you'll want to make immediately!--these pages will deliver a big list of fabulous new dishes for you to add to your repertoire.
A wife of a cowboy, mother of growing kids, and a businesswoman with a packed work schedule, Ree knows exactly what it means to juggle life's numerous demands simultaneously. The recipes in this book use everything from a skillet to a Dutch oven to an Instant Pot, so you'll have a mix of options to suit your own timeframe. And to reflect her own occasional adventures in carb cutting, Ree shares dozens of luscious lower-carb options for those days you want to eat a little lighter without sacrificing flavor. In The Pioneer Woman Cooks: The New Frontier you can explore an amazing and eclectic mix of traditional and new, including:
- Portobello Bun Burgers (revolutionary)
- Instant Pot Pumpkin Spice Oatmeal (tastes just like fall!)
- Lasagna Soup (so family friendly)
- Fried Tomato Sandwich (with pesto mayo and whole basil leaves)
- Parmesan Crisps (an irresistible low-carb snack)
- Zucchini Caprese Sliders (a pretty and tasty low-carb delight)
- Blueberry Ricotta Crostini (gorgeous party food!)
- Teriyaki Shrimp and Pineapple Parcels (the new way to stir fry)
- Mean Green Mac and Cheese (mac & cheese + veggies = score!)
- Ranch Pork Chop Supper (kids will love to make it)
- Cauliflower Fried Rice (a guilt-free version of your favorite takeout dish)
- Ice Cream Bonbons (smaller bites, to satisfy quick cravings)
- 11-Carton Cake (uses a carton of yogurt, then the carton measures everything else!)
- Caramel Apple Quesadillas (beyond belief)
Filled with endless variations, ingredient discussions, and equipment suggestions sprinkled among sensational recipes that offer a mix of refined and down-home, The Pioneer Woman Cooks: The New Frontier offers a whole new world of "scrumptious" for you to explore!