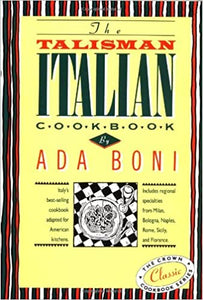 The Talisman Italian Cook Book by Ada Boni
Regular price $30.00 Sale
Hardcover 1978
Il Talismano is and has been for over 50 years the one great standard Italian cookbook. It is to Italians what Joy of Cooking is to Americans. Containing in simple and clear form the best recipes for all the foods that we associate with Italian cuisine, it covers all the regional variations of Italian cooking: Milanese, Bolognese, Venetian, Neapolitan, Sicilian, Veronese, and Florentine.

Appetizers range from the simply elegant, like Cantaloupe and Prosciutto and Artichoke Hearts in Olive Oil, to the sublime, like Tunnied Veal and Crostini of Mozzarella and Anchovies. Soups include Stracciatella, Fish Brodetto Rimini Style, and Tuscan Minestrone.

No part of Italy is very far from the sea, a fact reflected in the variety and quality of Italian seafood preparations: Flounder with Black Butter Sauce, Lobster alla Diavolo, Mullet in Piquant Sauce, Scungilli Marinara, and Shrimp Buongusto. For the landlocked there are recipes for Beefsteak alia Pizzaiola, Ossobuco, Saltimbocca, Scaloppine al Marsala, Loin of Pork with Milk, Chicken Cacciatora, Chicken Livers with Sage, Wild Duck with Lentils, and Rabbit in Egg Sauce.

Pasta is perhaps Italy's greatest contribution to world cuisine, and The Talisman contains dozens of authentic recipes like Homemade Ravioli, Green Lasagna Modena Style, and Spaghetti Marinara. There are recipes for Polenta, the Italian cornmeal preparation, as well as rice dishes and pizza.

Finally, Italian desserts are explored in full: Almond Macaroons, Pine Nut Cookies, Ricotta Pie, Zeppole, and Zuppa Inglese. There is also a glossary (complete with pronunciation guide) to Italian cooking terms.

For the American edition of The Talisman, all weights, measurements, instructions, and ingredients have been adapted to American usage. The result is a collection of recipes that are as easy to prepare as they are delicious to eat.