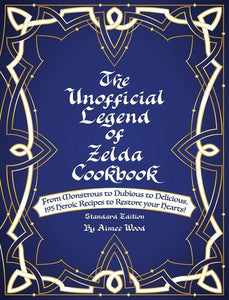 The Unofficial Legend of Zelda Cookbook From Monstrous to Dubious to Delicious, 195 Heroic Recipes to Restore Your Hearts! by Aimee Wood
Regular price $41.00 Sale
Hardcover  
It's Dangerous to Cook Alone.... Take This!!!
Do you like The Legend of Zelda and Cooking? This cookbook is for you!! From Monstrous to Dubious to Delicious, 195 Heroic Recipes to Restore your Hearts! (or 200+ recipes in the Master Edition!) With 14 (or 15) chapters including over 125 Vegan and 150 Gluten free friendly dishes, this fan made cookbook upgrades ordinary cooking into Hyrulian inspired and healthy meals, fit for champions!
Use this cookbook to explore Hyrulian cuisine, restore your hearts, and impress your fellow adventurers!
From easy comfort food like Elixir Soup and Vegetable Risotto, to daring dishes like Monster Cake and Rock Roast, for entertaining at a party, to a game night at home, The Unofficial Legend of Zelda Cookbook is your companion.
Explore Chu Jelly reimagined as fruit jellies, level up your cooking with Salt Grilling or Leaf Steaming, roast over an open fire with Fire Cooking, and discover the origin of each dish with in Game Guides!