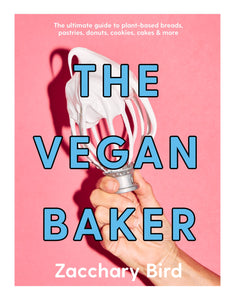 The Vegan Baker by Zacchary Bird
Regular price $35.00 Sale
Hardcover
The ultimate science-meets-magic guide to plant-based baked goods for vegans who want to have their cake and eat it.
For any vegans struggling to veganize their favourite savoury treats, sweets or desserts, Zacchary Bird is here to take you on a cooking experience like no other.
More than just a cookbook, The Vegan Baker is packed with over 100 recipes for all our baked favourites, made vegan. Whip up cherry pies, chocolate chip cookies, or chocolate cakes without butter, eggs, milk, cheese, and honey.
Learn how to make croissants – yes croissants! – from scratch, with step-by-step photos that show you how to laminate your own pastry. Bake fresh brioche, Japanese shokupan, and other usually dairy-laden breads, or make your own sourdough starter that you'll love so much you'll want to keep it by your side (or at least in your fridge) forever.
If you're feeling adventurous, learn how to make profiteroles, millefeuille, cannoli and even a croquembouche. Or if savoury snacks are more your jam, Zac has recipes for sausage rolls, cornbread, meat-filled pies, scones and more.
Each recipe is explained with Zac's signature humour and easy-to-follow instructions. Veganism isn't about missing out – it's about getting creative, and with Zacchary's ingenuity, baked goods are no longer forbidden.
ut of defiance-like the Angel Makers of Nagyrev, who taught women how to dispose of their abusive husbands in Hungary. Others schemed their way to power and money, including Empress Wu Zetian of China and Belle Gunness, who killed more than 14 people in the American Midwest. Discover all their storiesin this engaging collection . . . if you have the stomach for them.