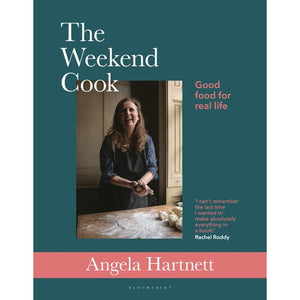 The Weekend Cook by Angela Hartnett
Regular price $35.00 Sale
Hardcover
Internationally beloved chef Angela Hartnett's first cookbook released in the U.S., featuring 100 recipes perfect for entertaining at home.
An invitation to dine at Angela Hartnett's house is a real treat. Nestled in London's vibrant East End, her home is a place to experience delicious food, great company and a relaxed atmosphere that is as far removed from the high-octane stress of a professional kitchen as it is from the social anxiety that many of us face when hosting a dinner. Angela knows the secrets to throwing the most relaxed and enjoyable dinners for friends and family-magical evenings that people talk about for months afterward-and in The Weekend Cook she shares them.
Great flavors and simple, yet delicious foods abound in these pages, from satisfying one-pot dishes and comforting risottos to perfect party food and baked goods to feed a hungry crowd-each one a joy to cook and eat. With 100 recipes as well as time-saving tips and cheats, The Weekend Cook takes the stress out of hosting, allowing you to enjoy your dinner parties without breaking a sweat.