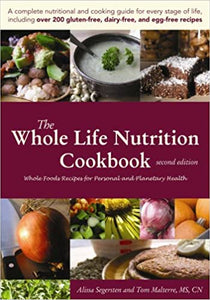 The Whole Life Nutrition Cookbook by Alissa Segersten and Tom Malterre MS CN
Regular price $12.00 Sale
Paperback
The Whole Life Nutrition Cookbook offers readers and foods lovers a new and in-depth look at foods found in their whole form and how to prepare them. Learn to prepare foods that promote optimal health, decrease inflammation, prevent disease, and energize your body. There are over 200 delicious, nourishing recipes in this cookbook that will delight your taste buds and satisfy your soul.
The Whole Life Nutrition Cookbook includes:
--Evidence-based information on whole foods
--Information on food sensitivities, including ways to adapt recipes with gluten, dairy, eggs, or soy
--A complete guide to stocking your whole foods pantry
--Sweet and savory whole grain baked goods that are gluten, dairy, egg, and soy-free
--Scrumptious vegetarian recipes along with delicious fish, poultry, and meat recipes
--A schedule for introducing solid foods to infants
--A proven 28-day elimination and detoxification diet
The Whole Life Nutrition Cookbook provides a diverse array of recipes for every taste bud and eating style. Recipes include Minty Green Smoothie, Sweet Rice Cereal, Root Vegetable Pancakes, Easy Gluten-Free Biscuits, Orange Currant Millet Bread, Quinoa Zucchini Bread, Fall Pinto Bean and Yam Soup, Creamy Butternut Squash Soup, Turkey and Wild Rice Soup, Raw Sauerkraut, Autumn Harvest Salad, Braised Kale with Garlic and Ginger, Curried Vegetables, Buckwheat Soba Noodle Salad, Thai Fried Rice, Coconut Quinoa Pilaf, Spinach and Tofu Enchiladas with Spicy Ancho Chili Sauce, Tempeh Fajitas, Lentil and Spinach Dal, Sunny Sunflower Seed Burgers, Spiced Citrus Salmon, Coconut Lime Chicken, Lemon Blueberry Pudding, Chewy Chocolate Chip Cookies, Raw Chocolate Hazelnut Brownies, Zesty Lemon Tart, Decadent Chocolate Bundt Cake, and Berry Peach Iced Nut Cream. There are also recipes for healing teas, nut milks, and smoothies, as well as recipes for salad dressings, dips, and sauces. With so many recipes to choose from, the question: What's for Dinner? can easily be answered every time.