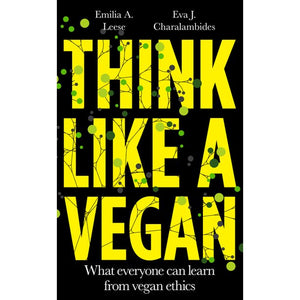 Think Like a Vegan by Emilia A. Leese and Eva J. Caralambides
Regular price $21.95 Sale
Hardcover
Why should we adopt animals? What's the problem with organic meat? What are the economics of plant-based foods? What about honey? What is the relationship between veganism and feminism? What is vegansexualism?
Veganism is on the rise. Plant-based foods and cruelty-free products showing no sign of stopping, Think Like a Vegan explores how vegan ethics can be applied to every area of our daily lives.
We all want to live more healthily and ethically.
This book is for anyone interested in veganism, its ideals and what even non-vegans can learn from its practice. Through a personal and often irreverent lens, the authors explore a variety of contemporary topics related to animal use: from the basics of vegan logic to politics, economics, love and other aspects of being human, each chapter draws you into a thought-provoking conversation about your daily ethical decisions.