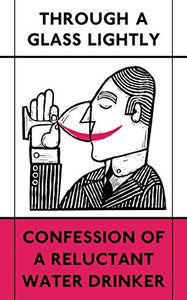 Through a Glass Lightly: Confession of a Reluctant Water Drinker by Thomas Tylston Greg
Paperback
The love of drinking was well-developed in the nineteenth-century Englishman. With chapters on port, claret, sherry, champagne, Burgundy, Madeira, wine cellars, glasses and butlers, 
Through a Glass Lightly
 is a love letter to wine and everything that came with it. But the passionate tale has a sorry ending: in the final two chapters, the author develops gout and has to become a teetotaller in order to be able to take out life insurance.

The books in "Found on the Shelves" have been chosen to give a fascinating insight into the treasures that can be found while browsing in The London Library. Now celebrating its 175th anniversary, with over seventeen miles of shelving and more than a million books, The London Library has become an unrivalled archive of the modes, manners and thoughts of each generation which has helped to form it.

From essays on dieting in the 1860s to instructions for gentlewomen on trout-fishing, from advice on the ill health caused by the "modern" craze of bicycling to travelogues from Norway, they are as readable and relevant today as they were more than a century ago.