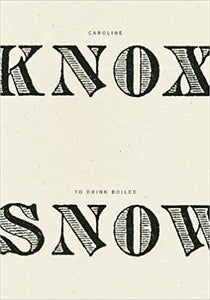 To Drink Boiled Snow by Caroline Knox
Regular price $20.00 Sale
Hardcover
"One might argue that nothing is sacred in Caroline Knox's work, but it would be truer to its spirit to say that everything is sacred here—and all are welcome."—Rebecca Frank, Boston Review
"Caroline Knox reminds us how whangy and interesting it all is."—C.D. Wright
"She is often obscure, but her allusions are as much a sign of camaraderie as of scholarly pretension, her poems a pert crystallization impossible in more narrative poetry."—The New Yorker
Caroline Knox once again demonstrates that she is a master at lyrical billiards, sending all levels of diction in surprising and comedic directions. No subject matter is off-limits for her examination. Her vast range of experiment is exciting, and the ensuing poems are games, dreams, and riddles. This collection is art on the page for the eye and the ear.
From "Poem":
Of milk, these persons make the butter until have
what are cheeses when they're at home;
of cheese, hors d'oeuvres of sandwich are manufactured
sandwich islands. The workforce custom subsume
draft cereal. Forasmuch as we
are not birdlike, we pig out, crikey,
put away comestibles big-time.
Caroline Knox's most recent publications are Flemish (Wave Books, 2013), and Nine Worthies (Wave Books, 2010). Quaker Guns (Wave Books, 2008) received a Recommended Reading Award 2009 from the Massachusetts Center for the Book. Six poems are anthologized in The Norton Anthology of Postmodern American Poetry, Second Edition. She has received awards from the National Endowment for the Arts, the Ingram Merrill Foundation, the Massachusetts Cultural Council (1996, 2006), The Fund for Poetry, and the Yale/Mellon Visiting Faculty Program.