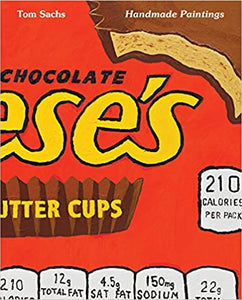 Tom Sachs Handmade Paintings by Tom Sachs
Regular price $65.00 Sale
Hardcover
The most recent body of paintings of this New York-based artist, featuring the artist's examination of consumer culture in his handmade, "do-it- yourself " aesthetic.

This is the first publication to focus exclusively on the roughly hewn paintings by Tom Sachs (b. 1966), tracing his interest in combining cultural icons and corporate logos with a handcrafted aesthetic. Mining the American landscape for iconography, Sachs investigates themes of corporate and cultural identity--such as consumerism, branding, cultural dominance, and technological development--to explore the achievements, failures, and inherent contradictions of contemporary society. In addition to the essay by David Rimanelli and twenty-two plates, there is a conversation with the artist and an extensive chronology. 

Sachs's meticulously handcrafted paintings depict such diverse topics as the Reese's candy bar, Fanta logo, Family Guy, Air Force One, Krusty O's cereal box, and the American flag; all modern icons that document successes and failures of the American experience and the ambiguities and contradictions inherent in its society and culture.