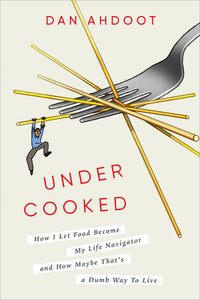 Undercooked by Dan Ahdoot
Regular price $28.00 Sale
Hardcover

A collection of hilarious essays about how food became one man's obsession and coping mechanism, and how it came to rule—and sometimes ruin—his relationships, from the Cobra Kai actor, stand-up comic, and host of Food Network's Raid the Fridge

"When most people say they have an unhealthy relationship with food, they mean they eat too much of it or too little. When I say I have an unhealthy relationship with food, I mean it's what gives my life meaning. That's a really dumb way to live your life, as the stories in this book will attest to."

Despite an impressive résumé as an actor and writer, Dan Ahdoot realized that food has been the through line in the most important moments of his life. Growing up as a middle child, Ahdoot struggled to find his place in the family until he and his father discovered their shared love for la gourmandise. But when the tragic death of his brother pushed his parents to strengthen their Jewish faith and adopt a strictly kosher diet, Ahdoot and his father lost that savored connection.

To fill the absence left by his brother and father, Ahdoot began to obsess over food and make it central in all his relationships. This, he admits, is probably crazy, but it makes for good stories. From breaking up with girlfriends over dietary restrictions, to hunting just off the Long Island Expressway, to savoring his grandmother's magical food that was his only tactile connection to his family's home country of Iran, to jetting off to Italy to dine at the one of the world's best restaurants, only to send the risotto back, Ahdoot's droll observations on his unconventional adventures bring an absurdly funny yet heartfelt look at what happens when you let your stomach be your guide.