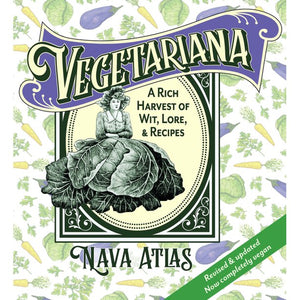 Vegetariana by Nava Atlas
Regular price $28.00 Sale
Hardcover
First published in 1984,
Vegetariana
was one of the quirkiest entries in the field of hand-illustrated cookbooks.
Publishers Weekly'
s review predicted: "This book should prove itself a classic." Now in its fourth edition and for the first time entirely vegan,
Vegetariana
is here for new readers to enjoy and original fans to rediscover. While more than 170 easy recipes are at the heart of its pages,
Vegetariana
is much more than a cookbook; it's a sampler of literary quotations, folk wisdom, botanical lore, and historical anecdotes. So even if you don't like to cook, this is a cookbook to read in bed! Taking her cues from her subjects, Nava Atlas animates the pages with whimsical pencil illustrations to create an unforgettable visual experience that will delight food lovers of all culinary persuasions.
Vegetariana'
s quirky art and design tap into a nostalgia both for beautifully illustrated books and simple, hearty food. While it may not have the lush photography and jazzed-up cuisine of contemporary cookbooks, it does have a kind of soul and wit that appealed to its first generation of fans and will surely appeal to new readers.