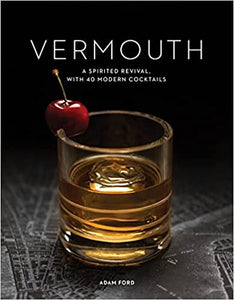 Vermouth A Spirited Revival with 40 Modern Cocktails by Adam Ford
Regular price $19.95 Sale
Paperback
Vermouth is hitting its stride―again. The cocktail resurgence has put a spotlight on an often-overlooked ingredient in some of the most iconic cocktails of our time: vermouth. It appeared in America in the 1860s, reigned supreme in drinks like the Manhattan and the Martini, then fell out of favor during the counterculture days of the 1960s. But with artisanal cocktails now the rage, interest in vermouth is at a peak. After all, without it, your martini is merely a chilled vodka or gin.
More and more cocktail lovers are requesting more than a whisper of vermouth in their drinks. In fact, it's touted as a low-alcohol alternative to sip on its own, or, if the ratio is tweaked, as tasty way to lighten up more traditionally strong drinks. Vermouth has a rich history, deeply intertwined with that of America, and, here, expert Adam Ford offers the first-ever detailed look into the background of this aromatized, fortified wine, as well as its rise, fall, and comeback in America.
With bold and delicious cocktail recipes?there are twists on the classic Boulevardier, a once-forgotten Brooklyn Cocktail, and a refreshing White Negroni?and color photographs throughout, Vermouth is a must-have book for anyone interested in drinking, or learning about, great cocktails.