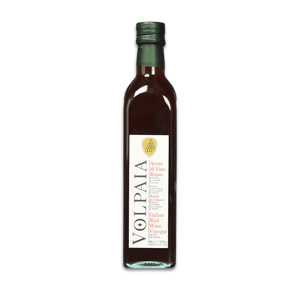 Volpaia Red Wine Vinegar 250 ml
Regular price $14.00 Sale
Castello di Volpaia's Red Wine Vinegar comes from red wine made from a blend of Sangiovese and Cannaiolo grapes. It has a rich, penetrating aroma, assertive acidity (7.5%), and full-bodied flavor with notes of oak and berries.
Produced in the cellars of a medieval village in the Chianti hills of Tuscany, Castello di Volpaia's aged red wine vinegar is produced from carefully selected wines of the region. These unique vinegars are produced using the "truciolo" method: the wine is percolated through "trucioli" (natural wood chips), transforming the natural alcohol of the wine into the acetic acid of vinegar while enhancing the wine's complex bouquet. 
The vinegar reaches its full maturity only after long, slow barrique aging in small oak and chesnut barrels (225 liters). The result is an intensely aromatic vinegar of exceptional roundness, with a rich flavor that enhances foods from salads to meats to strawberries and mangoes. 
A little sediment in the bottom of the bottle is a natural byproduct of the process and will not detract from the qualities of the vinegar.