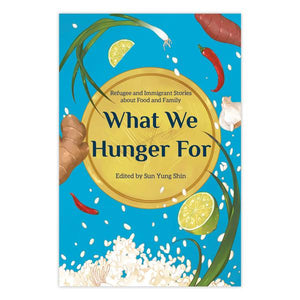 What We Hunger For Refugee and Immigrant Stories about Food and Family by Sun Yung Shin
Regular price $18.95 Sale
Paperback 
Food can be a unifier and a healer, bringing people together across generations and cultures. Sharing a meal often leads to sharing stories and deepening our understanding of each other and our respective histories and practices, global and local. Newcomers to Minnesota bring their own culinary traditions and may re-create food memories at home, introduce new friends and neighbors to their favorite dishes, and explore comforting flavors and experiences of hospitality at local restaurants, community gatherings, and spiritual ceremonies. They adapt to different growing seasons and regional selections available at corner stores and farmers markets. And generations may communicate through the language of food in addition to a mix of spoken languages old and new. All of these experiences yield stories worth sharing around Minnesota cook fires, circles, and tables.
In What We Hunger For, fourteen writers from refugee and immigrant families write about their complicated, poignant, funny, difficult, joyful, and ongoing relationships to food, cooking, and eating.
Contributors: Valérie Déus, V. V. Ganeshananthan, Roy G. Guzmán, Lina Jamoul, Simi Kang, May Lee-Yang, Ifrah Mansour, Ánh-Hoa Thị Nguyễn, Zarlasht Niaz, Junauda Petrus-Nasah, Kou B. Thao, Michael Torres, Saymoukda Duangphouxay Vongsay, and Senah Yeboah-Sampong.