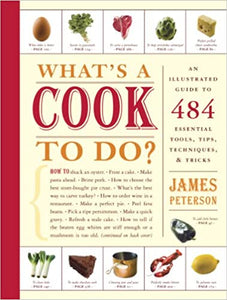 What's A Cook To Do An Illustrated Guide To 484 Essential Tools, Tips, Techniques & Tricks by James Peterson
Regular price $10.00 Sale
Paperback
From America's favorite cooking teacher, multiple award-winner James Peterson, an invaluable reference handbook.

Culinary students everywhere rely on the comprehensive and authoritative cookbooks published by chef, instructor, and award-winning author Jim Peterson. And now, for the first time, this guru-to-the-professionals turns his prodigious knowledge into a practical, chockablock, quick-reference, A-to-Z answer book for the rest of us.

Look elsewhere for how to bone skate or trim out a saddle of lamb, how to sauté sweetbreads or flambé dessert. Look here instead for how to zest a lemon, make the perfect hamburger, bread a chicken breast, make (truly hot) coffee in a French press, make magic with a Microplane. It's all here: how to season a castiron pan, bake a perfect pie, keep shells from sticking to hardcooked eggs. How to carve a turkey, roast a chicken, and chop, slice, beat, broil, braise, or boil any ingredient you're likely to encounter. Information on seasoning, saucing, and determining doneness (by internal temperatures, timings, touch, and sight) guarantee that you've eaten your last bland and overcooked meal.

Here are 500 invaluable techniques with nearly as many color photographs, bundled into a handy, accessible format.