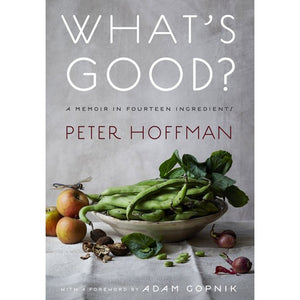 What's Good? A Memoir in Fourteen Ingredients by Peter Hoffman
Regular price $27.00 Sale
Hardcover
A culinary pioneer blends memoir with a joyful inquiry into the ingredients he uses and their origins
What goes into the making of a chef, a restau­rant, a dish? And if good ingredients make a differ­ence on the plate, what makes them good in the first place? In his highly anticipated first book, influential chef Peter Hoffman offers thoughtful and delectable answers to these questions. "A locavore before the word existed" (
New York Times)
, Hoffman tells the story of his upbringing, professional education, and evolution as a chef and restaurant owner through its components—everything from the importance of your relationship with your refrigerator repairman and an account of how a burger killed his restaurant, to his belief in peppers as a perfect food, one that is adaptable to a wide range of cultural tastes and geographic conditions and reminds us to be glad we are alive. 
Along with these personal stories from a life in restaurants, Hoffman braids in passionately curious explorations into the cultural, historical, and botani­cal backstories of the foods we eat. Beginning with a spring maple sap run and ending with the late-season, frost-defying vegetables, he follows the progress of the seasons and their reflections in his greenmarket favorites, moving ingredient to ingredient through the bounty of the natural world. Hoffman meets with farmers and vendors and unravels the magic of what we eat, deepening every cook's appreciation for what's on their kitchen counter.
What's Good
a layered, insightful, and utterly enjoyable meal.