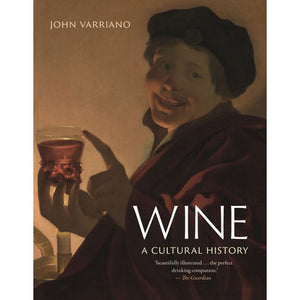 Wine a Cultural History by John Varriano
Regular price $24.00 Sale
Paperback
For oenophiles, casual wine-drinkers, and aesthetes alike, an informative and entertaining history sure to delight even the most sensitive palates.
From celebrations of Bacchus in ancient Rome to the Last Supper and casual dinner parties, wine has long been a key component of festivities, ceremonies, and celebrations. Made by almost every civilization throughout history, in every part of the world, wine has been used in religious ceremonies, inspired artists and writers, been employed as a healing medicine, and, most often, sipped as a way to relax with a gathering of friends. Yet, like all other forms of alcohol, wine has also had its critics, who condemn it for the drunkenness and bad behavior that arise with its overconsumption. Wine can render you tongue-tied or philosophical; it can heal wounds or damage health; it can bring society together or rend it. In this fascinating cultural history of wine, John Varriano takes us on a tour of wine's lively story, revealing the polarizing effect wine has had on society and culture through the ages.
From its origins in ancient Egypt and Mesopotamia to the expanding contemporary industries in Australia, New Zealand, and America, Varriano examines how wine is made and how it has been used in rituals, revelries, and remedies throughout history. In addition, he investigates the history of wine's transformative effects on body and soul in art, literature, and science from the mosaics of ancient Rome to the poetry of Dickinson and Neruda and the paintings of Caravaggio and Manet.
 A spirited exploration, this book will delight lovers of sauvignon blanc or pinot noir, as well as those who are interested in the rich history of human creativity and consumption.