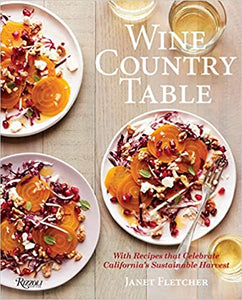 Wine Country Table With Recipes That Celebrate California's Sustainable Harvest by Janet Fletcher
Regular price $45.00 Sale
Hardcover
Celebrating the Golden State's wine-growing regions, Wine Country Table features compelling stories and recipes that showcase the range of the state's agricultural bounty and the seasonal spirit that continues to define the produce-driven and ethnically influenced essence of California wine country cooking.

Beautifully photographed, the book offers a visual tour of 23 stunning farms and wineries--including Cakebread Cellars, Domaine Carneros, Handley Cellars, and Tablas Creek Vineyard, along with Lodi Farming (cherries), Hilltop & Canyon Farms (avocados and citrus), and Henderson Orchards (pears) to name a few--whose sustainable practices highlight the future of responsible farming and winegrowing embraced throughout California.

Award-winning author Janet Fletcher's recipes turn any gathering into a celebration. Wine pairings and recommendations add sophistication to everyday meals. Wine Country Table shows readers firsthand how responsible growing practices and careful technique result in delicious dishes you'll be proud to share with family and friends.